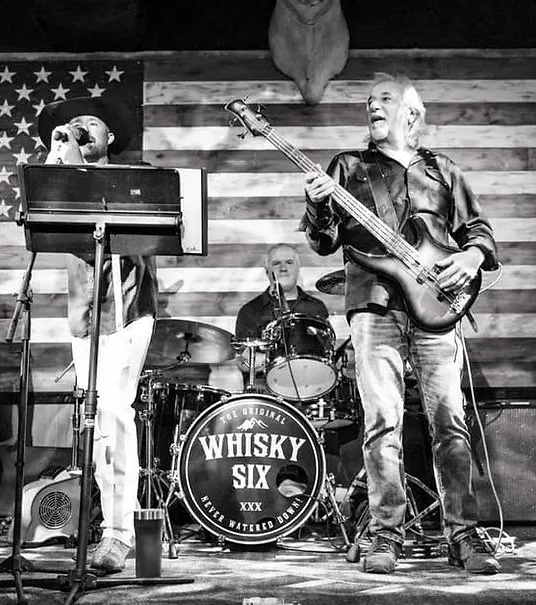 Whisky Six is one of South Florida's favorite local country bands! Their modern music selections are engaging and fun. While they play mostly modern country don't be surprised to hear some Cash, Strait, Yokham or other classics thrown in. You don't have to be a hillbilly to appreciate these guys….but it helps!
Fun-loving, polite and social are just a few words used to describe these guys. Be sure to catch one of their shows or contact us for your next private event!
THE BAND. THE MYTH. THE LEGENDS
Nick Harris – Born and raised here in south Florida, Nick is the true "South Floridian". You'll find Nick to be the perfect mix of Aldean and Bentley. Nick has been singing his entire life, and Whisky Six is proud of have him leading the band.
"Rockin" Ron Pitkin – has been playing guitar since he was knee high to a June bug.  Ron started in the garden state and was originally influenced by bands like "Bruce Springsteen.  He moved to Florida some years ago and as they say…He's "Gone Country"!!   You'll now hear his country influence similar to Jason Aldean's guitarist Kurt Allison.
Alan Jacobson –  Bass Guitar.  Alan is originally from Ohio and as a teenager he has always been influenced by country music. Alan has played and toured with numerous artist his entire life. He has now found his new home with Whisky Six.  As the backbone of the rhythm section, he loves being on stage and seeing music move people.
Mike Betters – Rhythm Guitar/Vocals for Whisky Six Mike has been making and writing music most of his life and became a traveling troubadour after a stint in the suit and tie world of computer software.  He has played his music at many venues and festivals throughout the Midwest, up and down the Mississippi River, and in most of the Ski towns of Colorado.  Mike first came to Florida in the late 80's and played in the Keys as well as many of the local clubs in Southern Florida. After moving around Mike returned to Florida in 2004 where he hung up his travelling shoes and settled into the SoFla lifestyle. He enjoys all types of music and continues to write and produce his own. You will often hear Mike providing harmonies as well as taking the lead on some of the classic country tunes in Whisky Six's arsenal.
Gary Golob – Drums.  Originally from the country music capital  "Nashville, Tennessee", Gary moved to South Florida in 2002. After spending years in a 80's rock band he found his way back to his roots and his first love of country music with Whisky Six. His influences include parts of Jim Riley and Rich Redmond; two staples in drumming for today's country music. With Alan on the bass and Gary on the drums they cut a groove where country falls right in.